Closing Instructions Development Workgroup (DWG)
Join the Closing Instructions workgroup to collaborate and contribute to our work efforts!
What is the Closing Instructions Development Workgroup?
Industry-wide use of standards is critical for effective, efficient, and flexible business practices. Standards help mitigate risk, improve consumer understanding and satisfaction, and reduce costs.

MISMO has succeeded in creating a common terminology that is used for communications between lenders, service providers, regulators and others. One important focus area for us is Closing and Title Services.

We are actively working on new closing instruction standards to improve communication and avoid delays during the closing between the lenders and closing agents.

Key Deliverables include:
A common closing instruction template (completed).

Implementation guides for lenders, closing agents, and vendors (completed for templates)

Instructions for the day to day use of the closing instruction template (in progress)

A data exchange standard that permits the electronic exchange of closing instruction information (in progress)
Industry Need for Closing Instruction Standardization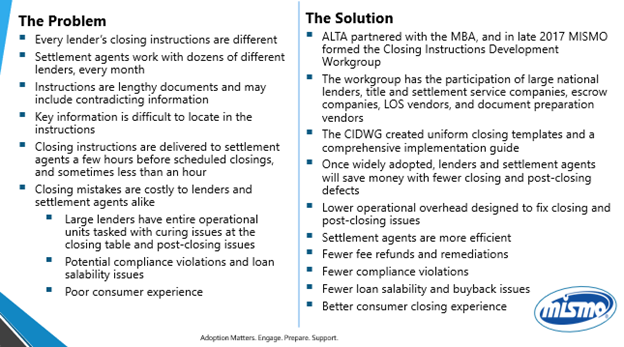 Current Focus
Develop a data exchange standard that permits the electronic exchange of the information captured on the Closing Instructions templates
Incorporate changes to the Closing Instructions templates (Master & Transactional) and Implementation Guide to support industry feedback
Work with industry participants to encourage adoption of the Closing Instruction templates, specification and Implementation Guide
How to Join
Anyone may participate in a MISMO development workgroup or community of practice regardless of membership status. Voting members of Information Management and Architecture Workgroup are elected as per governance procedures. Membership in MISMO is open to anyone - mortgage lenders, banks, credit unions, servicers, vendors, government agencies and more. MISMO members receive a voice, and vote, in creating and enhancing industry standards used by the entire industry. Learn more here.

Mike Fleck, Black Knight, Chair
Ruth Dillingham, Dillingham LLC Consulting, Vice Chair

Facilitator
Erin Bittenbender, MISMO
[email protected]