Join the Architecture Workgroup community to hear about the latest AWG efforts!

What is the Architecture Workgroup?

The Architecture Work Group manages MISMO engineering disciplines providing overall technical direction and support for all MISMO Products. AWG is responsible to ensure that MISMO Products follow all published MISMO Engineering Guidelines (MEGs) and other established product development guidelines.

Key Responsibilities:

Decision changes or enhancements to MISMO Products submitted specific to approved Work Requests.

Provide guidance and suggestions for architectural improvements to MISMO standards and models.

Coordinate and integrate approved changes or enhancements to MISMO Standards into model(s) and MISMO Collateral as appropriate, including subsequent revisions. Ensure that changes are consistent with MEGs as appropriate.

Create new MISMO Products (own work requests assigned to AWG)

Develop, review, publish, and maintain the MEGs as needed to support all MISMO Products.
Work Request in Progress:

AWG also is accounted for managing work request with actively in progress. We are always looking for fresh ideas and additional volunteers to join the fun.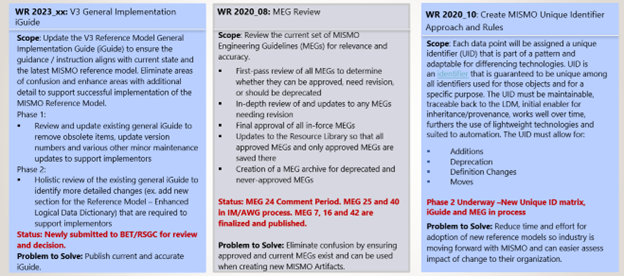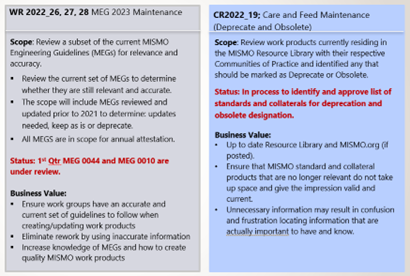 How to Join
Anyone may participate in a MISMO development workgroup or community of practice regardless of membership status. Voting members of Information Management and Architecture Workgroup are elected as per governance procedures. Membership in MISMO is open to anyone - mortgage lenders, banks, credit unions, servicers, vendors, government agencies and more. MISMO members receive a voice, and vote, in creating and enhancing industry standards used by the entire industry. Learn more here.

Bill Klumper, FirstStep Software Systems, Co-Chair
Domenic Virgilio, United Wholesale Mortgage, Co-Chair

Facilitator
Becky Griswold, MISMO
[email protected]
Architect
Steve Acker, MISMO
[email protected]