Servicing Transfers Development Workgroup (DWG)
Our Goal
As a servicer, lender, investor, or channeled 3rd party servicing support organization within the residential mortgage industry, you know firsthand servicing transfers require an immense investment of resources.

MISMO Servicing Transfers DWG collaborates and creates standards to streamline transfers for both servicers, reduce portfolio degradation for investors, and limit negative impacts on borrowers.

Our MISMO Servicing Transfer Catalog, constructed during Phase 3, is a minimal viable set of 'industry collaborated and validated' instructions and best practices for use by servicers when planning and executing a servicing transfer. Click here to access.

What's coming next? Development of the MISMO Servicing Transfer Catalog laid a critical foothold to bring servicers together to collaborate and create servicer-to-servicer business process approaches. The group recently created a roadmap that will guide the analysis and creation of a servicing transfer dataset.


Why Join?
Volunteering your expertise and actively collaborating to with co-experts to help build a clear, effective, adoptable servicing transfer standard is critical to our overall success.


Who's Playing?
Our ST DWG consists of residential servicing transfer experts and stakeholders, 100+ members strong - the industry is involved, and we are grateful.
Government Sponsored Entities (GSEs), Customer Advocacy Groups, and regulatory agencies (CFPB and FHFA) are engaged and actively backing the creation of and standardization of servicing transfer data and processes. Many actively participate, and we are thankful for their passion and time.
Our Journey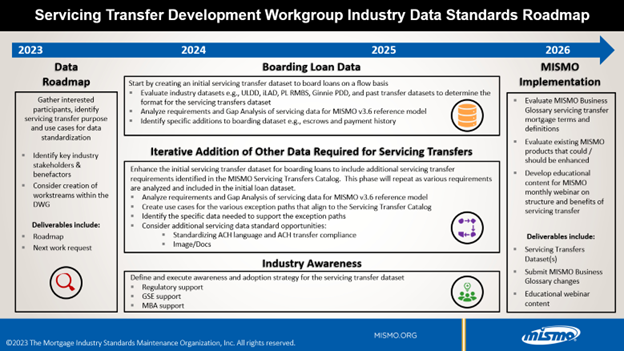 How to Join
Anyone may participate in a MISMO development workgroup or community of practice regardless of membership status. Voting members of Information Management and Architecture Workgroup are elected as per governance procedures. Membership in MISMO is open to anyone - mortgage lenders, banks, credit unions, servicers, vendors, government agencies and more. MISMO members receive a voice, and vote, in creating and enhancing industry standards used by the entire industry. Learn more here.

Joey Prince, Shellpoint Mortgage Servicing, Co-Chair
Matt Seu, Actualize Consulting, Co-Chair  
Rachael Macaulay, Flagstar, Vice-Chair
Facilitator
Erin Bittenbender, MISMO
[email protected]
Architect

Paul Weakley, MISMO
[email protected]