MISMO is where the mortgage industry comes to address the most challenging obstacles in real estate finance. Our standards increase efficiency, accelerate our industry's digital transformation, and enhance the interoperability of data, systems, and technology platforms across the industry. Every residential loan originated today utilizes MISMO standards in some way, and the importance of this work will only continue to grow.
MISMO's standards lead to lower costs throughout the mortgage process; reduced friction as information is shared effectively among the various parties in the mortgage transaction; faster, more efficient loan closings; enhanced innovation across the industry; improved regulatory and counterparty compliance; and reduced levels of fraud. Become a MISMO member and join the conversation!
Make Connections
Grow your network and connect with colleagues across the industry! MISMO's membership includes lenders, servicers, state and federal regulators, GSEs, FHLBs, housing agencies, MIs, title companies, service providers, technology companies, and others,
Enhance Efficiency and Reduce Costs
MISMO solutions lead to lower costs throughout the mortgage process enabling the efficient exchange of data and information and reducing the risk of costly rework.
Streamline Business
MISMO solutions reduce friction as information is shared efficiently among the various parties in the mortgage transaction, and use of its standards leads to faster, smoother loan closings. The use of MISMO standards enables improved regulator and counterparty compliance and reduces the risk of fraud.
Learn more by reading the MISMO Membership Brochure.
Enjoy additional benefits by upgrading to become a Champion!
Note: Corporate Membership is a pre-requisite to enrolling as a Champion. The rates reflected below for Associate, Executive and Chair Champion do not include the $3,750 Corporate Membership.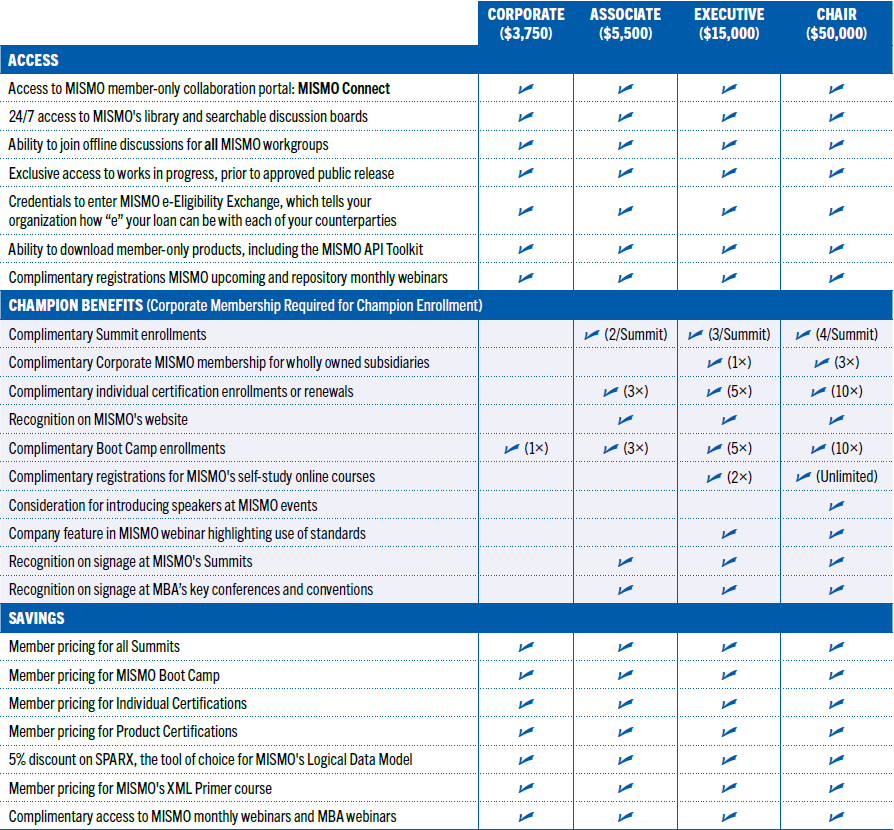 Become a MISMO Champion
Looking to get more out of your MISMO membership and position yourself as an industry leader? The MISMO Champions program rewards companies that understand the critical role MISMO plays and wish to support the organization at a higher level than basic membership. In return, MISMO provides these organizations with even more valuable benefits and opportunities.
All MISMO Champions Receive:
Complimentary event registrations
Complimentary Enrollments into MISMO Bootcamp and MISMO's Individual Certification Program
Recognition on MISMO's website and at industry conferences
And MORE depending on the program level you choose!
Learn More Here!