Flood Risk Disclosure Guide
Have you considered your Flood Risk?
Whether you are thinking about buying a home, or already have a home and are looking to access equity, we have resources to help you understand your flood risk.
Understanding climate risks is essential to plan for the future. Individual flood risks will vary based on location; thus, it is important to focus on the relevant risks for your area.
Depending on where your property is located, you may be required to purchase flood insurance. The Federal Emergency Management Agency (FEMA) hosts a Flood Map Service Center (https://msc.fema.gov/portal/home) where consumers can obtain a flood map for an entered address. Your state may require a flood risk disclosure before the sale of a property, according to the Natural Resources Defense Council (NRDC).
However, these resources may not provide a complete view of your risk because many flood insurance claims occur outside the high-risk flood areas and most insurance claim information is not available to consumers. Risk is inherently dependent upon the totality of facts and circumstances relating to a specific transaction. The purchase or refinancing of a home requires scrutiny and consideration by the consumer to determine whether the transaction provides a benefit to the consumer. By providing this model document, the creditor does not make any representations or warranties related to risk or benefit to the consumer.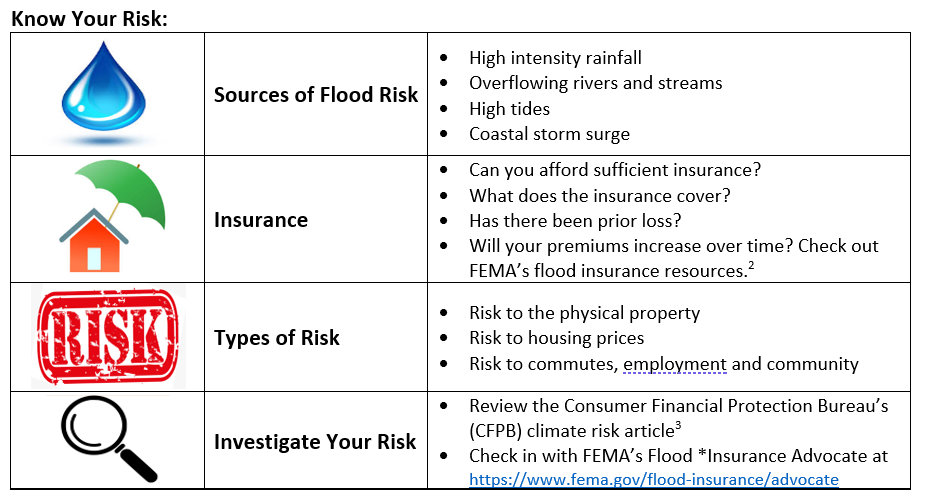 Download a full copy of the Flood Risk Disclosure Guide HERE
Disclaimer
The Flood Risk Disclosure guide was approved as Final in February of 2023.